Swimming
Cocos has several sandy beaches that are great for swimming. Cocos Island's most famous beach is at Direction Island, just recently awarded Number 1 beach in Australia by Tourism Australia and given the name Cossie's beach after Peter Cosgrove's visit to the Islands. Swimming beaches are also located on West Island at Trannies on the northern end of the island and at the Yacht Club to the south.
Fishing and Crayfishing
Cocos Fly fishing – World class fly fishing is available with crystal clear waters and good size Bonefish are in plentiful supply out on the flats.
Beach Fishing – Fishing in the lagoon is fun and easy. We recommend buying a small travelling or collapsible fishing rod that fits in your suitcase together with some basic light tackle.
Surfing
Surfing is great all year round. It is an amazing experience to surf on the clear water, you can even see turtles, sharks and fish while you are waiting for the next waves!  Perhaps the best part is not many people surfing, sometimes you can enjoy the place all by yourself..
Wind/Kite Surfing
Windsurfing and kiteboarding are popular during the trade wind season (July, August and September). World class location, typically wind 24 hours a day for 4  months of the year!
Snorkelling & Diving
Cocos has world-class snorkelling and scuba diving with some of the most pristine coral reefs in the world.
Walk across the shallow reef from Scout Park on West Island to Pulu Maraya and explore this beautiful un-inhabited tiny island surrounded by reef and swimming holes perfect for snorkelling.
Golf & Tennis
Cocos has its own nine hole golf course alongside the airport runway. Golf with a difference! This is the only golf course in the world where you can play across an International runway. Visitors are welcome.
Cocos also has two tennis courts, where you can use your own racquet or just borrow a racquet at the courts.
Hash House Harriers
Weekly runs are organised through the local Hash House Harriers. Visitors are welcome.
Direction Island – Australia's Number 1 beach 2017
Direction Island as Number 1 beach in Australia is simply stunning.
Catch the ferry on Thursdays and Saturdays from West Island across to Direction Island and spend the day lazing under palm trees, exploring the island, swimming at the white sandy beach or snorkelling at The Rip.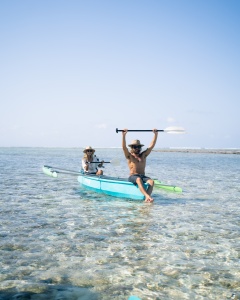 Motorised Outrigger Canoe Tour
Cocos Island Adventure Tours offer high tide tours of the Southern Islands aboard motorised, outrigger canoes. Tours are tide dependent.
Home Island Tours
Take a cultural tour around Home Island.
Lagoon Swim
For the experienced (or inexperienced) swimmers there is an annual lagoon swim 8 kms across the lagoon (weather permitting).
This has been well organised by many local residents in the past and has proven to be a great day for all concerned.
The Visitors Centre can be contacted for details regarding future events.
Bird Watching
The Cocos Keeling Islands are a popular destination for bird watchers who look for resident, migrant and vagrant bird species.