Your Suite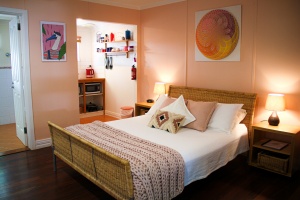 All Cocos Seaview suites are fully air conditioned and have quality furnishings and accessories throughout.
Each suite has a comfortable bed with fresh, clean linen and bath/beach towels.
A colour TV and a clock radio are standard features of the suites.
Each suite has a private ensuite bathroom.
Each suite also has a fully equipped kitchenette, with quality appliances including fridge, freezer, kettle, toaster, microwave, electric frypan and egg cooker.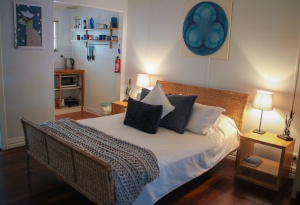 All cutlery and crockery is provided and all suites have their own picnic set with plates, cups, cutlery, etc.
Each suite overlooks the central tropical garden and has their own wooden deck area with furniture and overhead fans. Insect screens are fitted on all windows and doors.
We also have a newly renovated, covered outdoor entertainment area in the garden for our guests use.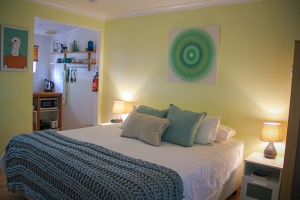 This area includes a bar fridge, electric BBQ, rice cooker and wok. There is a dining table and chairs as well as comfortable lounges.
Room Configuration
One room has a king-size bed which can be reconfigured into two single beds for twin-share (direct booking only). Please contact us for more information and bookings.
The other rooms have a queen size bed.
Our Location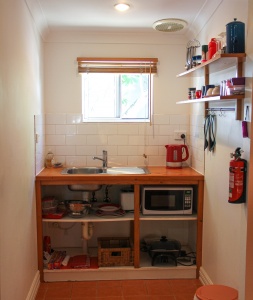 Located on West Island in a quiet leafy cul-de-sac just 700 metres from the centre of town Cocos Seaview is secluded, romantic and intimate.
Tucked away among the tropical palms and trees in the residential area Cocos Seaview offers a relaxed experience away from the town centre.
Cocos Seaview is just a one minute walk to the Indian Ocean.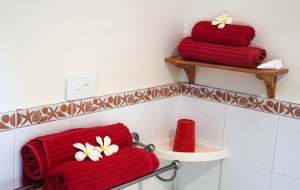 The town centre, with shops, restaurant, Cocos Club bar and other island facilities is an easy ten minute stroll along the seafront.
The community bus stop is a short stroll if you wish to catch the ferry across to Home Island or Direction Island.
Guest Policies
Our rooms are designed to accommodate a maximum of 2 adult guests.
Please note that Cocos Seaview does not cater for children.
Personal Service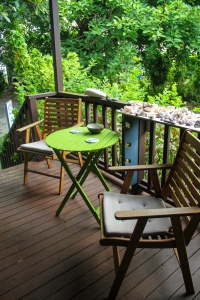 Cocos Seaview has a dedicated manager who lives on-site to provide a friendly and relaxed service for all guests. You will be met at the airport terminal and delivered to your suite. You will also be returned to the airport on your return home.
Once at Cocos Seaview you can choose to be left alone during your stay or you may ask the manager any questions you may have about things to do and see during your stay. All suites have up-to-date compendiums regarding Island life.
An Island tour is available on your arrival to enable you to work out what, where and how to get the most out of your time on Cocos. All tours can be booked once on Island. We suggest you book in advance for your car hire as the number of cars on the island is limited.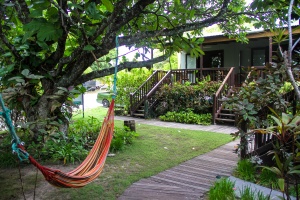 Your room is serviced weekly and access to a fully equipped laundry is also provided free of charge.
Cocos Seaview offers, by arrangement, late checkout for guests. Rooms are non-smoking.
Wireless Internet Access
Limited wireless internet access is available in all rooms and outdoor facilities for a modest fee.
Pricing
Our rates are from $260AUD per night.
Included in the cost of your stay are the following benefits:-
free airport transfers
free laundry facilities
We accept payment by direct deposit (EFT) or credit card.
Cancellation Policy
If cancelled before 30 days prior arrival no fee applies except those fees that may be charged by external booking agents/distributors.
If cancelled within 30 days of arrival date there will be a 100% fee. Travel insurance is highly recommended for unforeseen circumstances.
For bookings made after the 18 Mar 2020, the standard booking policy applies (100% 30 days prior) but if the border between WA and the Indian Ocean Territories is closed by the State and Federal Government and remains closed for the entirety of the proposed stay, then we may offer credit or dates changes at management discretion.
Important; if the requirement to complete compulsory quarantine on travel to or return from the IOT is in place, or a minimum time in WA prior or post travel is required for travel approvals, it will not change the booking cancellation policy of 100% 30 days prior to travel. Nor does the closing of the border from WA to another state, not including the IOT's, change the 100% at 30 days policy, only if the border between WA and the IOT closes and remains closed for the entire duration of the stay, does the cancellation policy adjust to accommodate 'date changes, move and credits will be processed at managements discretion.'