Fishing on the Cocos (Keeling) Islands.
Shorebased tidal flats fishing or shallow reef fishing.
This is a great way to explore the beautiful Cocos (Keeling) Islands. It is also a great way to relax, exercise and catch fish at the same time.
For the young or not so young.
This is generally tide dependent fishing. You may choose flats fishing in the lagoon or fish on shallow reef on the seaward side of the Islands.
All keen fishers advised to bring own tackle as there is limited fishing tackle for sale on the Island. Wonderful flyfishing conditions or just a light spinning reel and rod will provide hours of pleasure.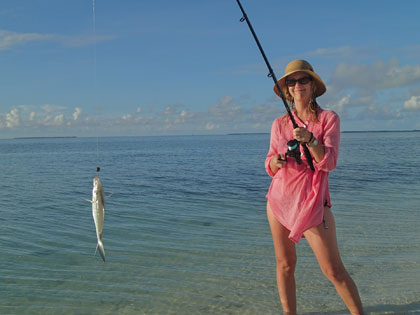 Species include silveries (silver biddy), sweetlip, trevally, bonefish  just to name some of the species targeted here.
Please note that although there is no specific season with fishing here on the Cocos Islands the prevailing winds between July and September can make fishing more of a challenge.
Currently there is no licensed fishing charter boat operating on the Cocos Keeling Islands.
Flyfishing guides are available.
Fishing Photo Gallery